Now available!
Sacrificed
Published by Cats Paw Books
Read an Excerpt from Sacrificed | Read Reviews

There's a secret worth killing for at Island Naturals
A cryptic text brings Victoria, British Columbia, animal crimes investigator Kieran Yeats to a midnight rendezvous with a client mysteriously named Shrew. Shrew's late, and when she does arrive, there's no time for talk. She hastily throws two packages into a nearby garbage dumpster, telling Kieran, "Get the things I've left for you, and for God's sake, don't leave the others behind." Then her VW screeches out of the parking lot, a big SUV in pursuit. The next morning, Shrew is found dead, victim of a supposed one-car traffic accident.
Shrew's death, and the packages — which contain a cat in a cloth bag, a phone, and a flash drive — launch Kieran into an investigation of Island Naturals, a respected Vancouver Island cosmetics company. But what secret did Shrew discover there? And is the secret, which reaches all the way to China, so huge that someone would kill to hide it? Discovering the answer to these questions could well cost Kieran her life.

PRAISE FOR SACRIFICED
"Linda J. Wright's novel Sacrificed: A Kieran Yeats Mystery is a gripping story about animal rights and crime. Kieran Yeats is an animal rights investigator in Victoria, B.C. with solid experience as a former prosecutor in the Crown Counsel's office. Late one night Kieran meets very briefly with "Shrew," a terrified client who gives her brief instructions before speeding off, afraid for her very life. In the dumpster, Kieran finds a frightened, maimed tabby in a bag. An envelope contains a cell phone, a flash drive, and a key card. Shrew is found dead, her car totaled. Kieran's investigations point to a shocking lie at Island Naturals, a cosmetics company with a solid reputation for no animal testing. But what did Shrew discover there that cost her her life?

I really enjoyed "Sacrificed: A Kieran Yeats Mystery" for the strong characters and the skillful way in which Wright adds depth to the story through her own knowledge and experience as an animal rights activist. From the outset, Kieran is determined to get to the truth. She is courageous in tracking down an elusive and dangerous enemy, someone who will not hesitate to kill. I also liked the way Wright reveals more about Shrew's character, saving the tabby from torture even at the cost of her own life. The tension and the action in the story pick up rapidly as Kieran must rescue other animals before a scheduled testing. I loved Kieran's "cadre" of people in her life, her adopted daughter Tris, and friends who love and support her. I also loved the way Wright weaves poetry and Kieran's Irish heritage into the story. A very enjoyable and thought-provoking mystery story for those who love animals".
— Saifunnissa Hassam, Readers' Favorite, 5 stars
"In Sacrificed: A Kieran Yeats Mystery, animal crimes investigator Kieran Yeats takes a case that winds up in the death of her client, leading her to investigate a greedy cosmetics firm with a villainous lab director. The author's—and protagonist's—compassion for animals is clear, and the novel offers tension and daring endeavors. By focusing on the topic of animal exploitation and a detective devoted to uncovering a huge lie at the heart of Island Naturals, a cosmetics firm that asserts it does not test on animals, the author tells a unique story. The heroine's relationship with her adopted daughter brings an element of warmth and intimacy. As well, Kieran's narrative voice has a quality of candor that is admirable and reveals her to be charismatic, resourceful, and principled. Animal loving readers will particularly connect with Wright's clear-minded writing that includes moments of poetic prose".
— Booklife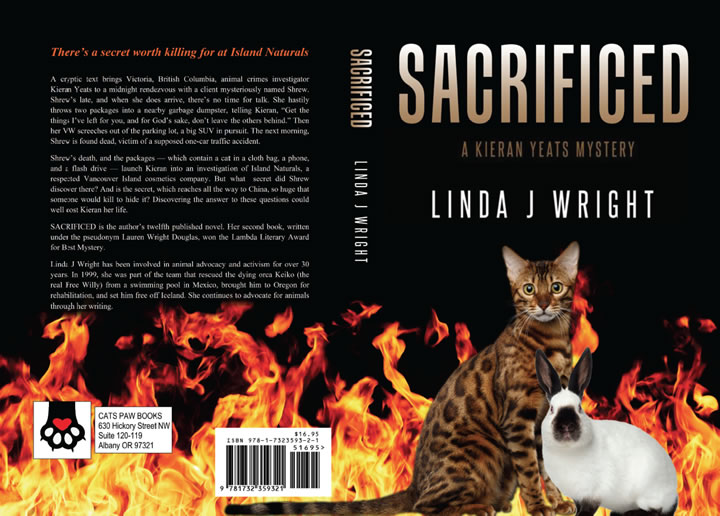 Paperback; Ebook | 266 pages | 978-1732359321 | October 7, 2019